In all honesty, I used to love HP, but not for the reasons you might think. Their enterprise and server gear has long been solid, including their desktop and laptop products. I have much experience with many years of such equipment. That changed for me a few years ago when I purchased a brand new HP ProBook 4540s. Aside from the display being of lower resolution than I wanted, the machine was a 15.6" mid-range powerhouse. It has a 2.5GHz 3rd-gen Core i5, 8GBs of RAM, 750GB drive, all of the expected widgets for connectivity, and hybrid graphics featuring Intel HD 4000 for mundane stuff and an AMD Radeon HD 7650M with 1GB of RAM. That last item would be perfect for my gaming needs, which aren't cutting edge, but can tax integrated systems. I thought I'd found my soulmate, and at $600, a thrifty value, too. 
Boy, was I wrong. Just try to imagine Tom Hanks having his maniacal laughing fit in The Money Pit after discovering hidden issue after issue with what he'd hoped was his dream home. To make an already long story short, all sorts of bits went wonky, I fought with HP over repairs covered by the warranty, had to take the battle to the BBB, and won without winning. Today, I still use it. The trackpad doesn't work. There is no keyboard anymore. It works, but it's a frustrating thing to be forced to work on a $600 lemon and that it was HP that screwed me. HP fought tooth and nail to avoid doing anything to make me happy, and if that was their goal, mission accomplished. So, like any jilted suitor, I decided to shun them. 
For the longest time, they only released a few things that I found tempting, but I was able to. I won't even bother to list them because I can't. Hideous recall, you see. One was a tiny little blob of a compy. Overpriced. Another was a gorgeous laptop of some kind. WAY overpriced. Then today, they came out with this...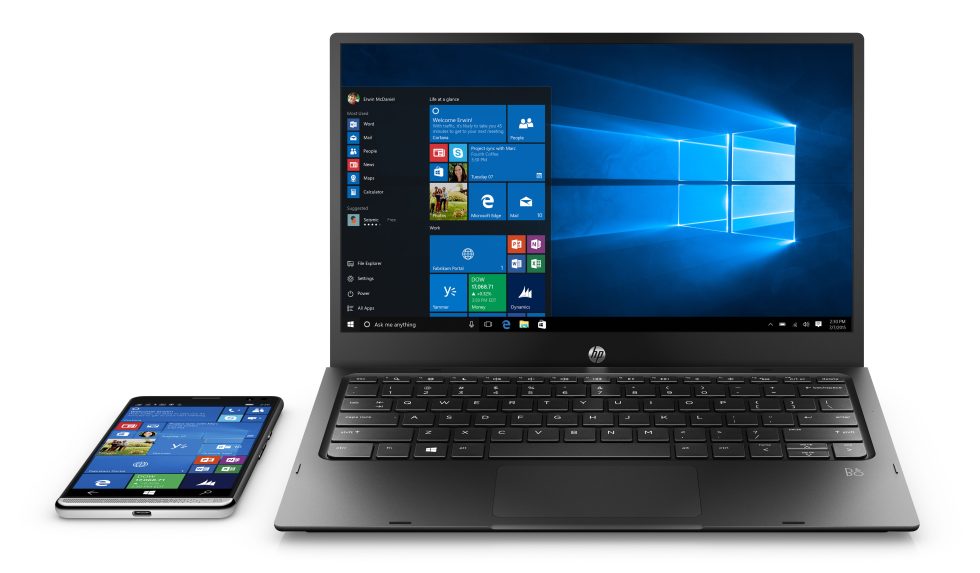 Right? That little guy on the left isn't so little. It's the HP Elite X3 and it's just shy of 6 inches. There's a better picture of the front at the end of this piece, and if you already desire it (who can blame you) prepare to be disappointed. Price and release date are not yet known as HP isn't talking, but there are hints of a Summer release. Timing could very well be up to when Windows 10 Mobile is released to Gold Master. If you need additional technical deets, here are the specs from Ars Technica:
Hardware-wise, the Elite x3 ticks all the boxes and then some: Quad core Qualcomm Snapdragon 820 running at 2.15GHz, 4GB RAM, 64GB storage, 5.96 inch 2560×1440 AMOLED screen with Gorilla Glass 4, 2×2 802.11a/b/g/n/ac, LTE-Advanced, 16MP rear and 8MP front cameras, both iris recognition and a rear-mounted fingerprint reader, microSD, USB 3 Type-C, dual SIM, a 4150mAh battery with wireless charging using both the Qi and PMA standards, and IP 67 water resistance (safe against immersion in 1 [meter] of water for 30 minutes).
And, if you can't tell by looking, it's running Windows 10 Mobile. Now, that "laptop" next to it isn't really a laptop. It's the modern equivalent of a dumb terminal. See, Windows 10 Mobile has a neat trick called Continuum where, with a special dock, you can run a Windows-like desktop environment while still getting to use the phone. If you already have a nice monitor, keyboard, and mouse, HP does have their own dock, too. The lappy bit would come in handy for mobile workers, though. 
That's exactly who HP is going after, too. Enterprise. HP already sells really well into corporate markets. Windows 10 will start to take off in those markets soon, and integration is highly prized because it can reduce costs and complexity. HP wants to be the winner for Windows shops by offering a complete, all-in-one, fully integrated Windows experience for users and administrators, a hat trick, if you will. Most data-intensive apps these days are SaaS, anyway. You don't need huge local storage, and mobile CPU capabilities are improving like gangbusters. My Dell Venue 8 Pro runs Windows 10 better on a dual-core Atom with 2GBs of RAM than my laptop does with a quad-core Core i5 and 8GBs. It's not bad with games, either (just not Team Fortress 2, my one and only love). 
So, I'm faced with a quandary. Do I unreasonably sustain my harmful grudge of HP for dissing me and being unapologetic for said diss, or do I just let that anger and resentment go free to sulk in its own dark, gloomy corner so that I might readily accept the entire Elite X3 product lineup into my heart? I'm inclined to think that yes, I should let it go and just move on. 
It's just that HP hurt me really bad, and right where I live; my writing. 
I find it difficult to allow the superficial promise of something glossy and new override my ethical, if emotional, position. Then again, it is really nice looking and it's just a gadget. So, HP, if you're reading this, you can apologize by sending me one, with all of the accessories, of course.